Recommended Commercial Groomers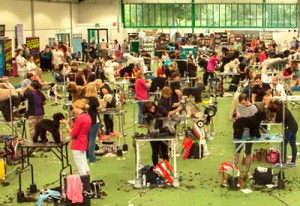 The groomers listed below are commercial dog groomers who have a track record of being able to trim a Kerry Blue correctly some are even British & European Grooming Champions!
Godalming – Costin Stoica 01483 397397
London – Cheryl Howard 0208 544 2500
South Wales – Warren Bradley 07891 698236
Staffordshire – Jitka Krizova 07928 809992
South West Wales – Peter and Becki Ensell 07572 344043
Yorkshire – Look North 01535 661776
There are several Kerry Blue exhibitors who will trim a Kerry Blue for a fee. Have a look at a show catalogue for an exhibitor in your area if you're unable to travel to the groomers listed above. Not all exhibitors do this so you will have to ask them individually or feel free to contact us and we will help you.
Grooming Competitions around the UK are very well attended and a great opportunity for people to learn. And on a lighter note just when you thought the impossible was impossible take a look at this fine work of art which won KBTA Member Becki Ensell British Grooming Champion title in 2014. For anyone new to Kerries this is NOT the breed standard and NOT for anyone at home to try without proper training, supervision and a lot of experience but it shows you with creativity and an exceptional talent that you can literally saddle up your Kerry – do we hear the sound of the Irish hedgerow talking?! DEFINITELY