If you're a new Kerry Blue exhibitor, welcome to our world of travelling around the country, grooming, conditioning, competing in the showring, and most importantly, meeting other Kerry Blue enthusiasts. Please take a look at all the sections within exhibiting which we hope you find a useful resource.
If you have a puppy Kerry and would like to join the show world, your first steps should be to find a Ringcraft Club in your area where you and your puppy can learn and practice the etiquette of the showring, and to make contact with other exhibitors in your area, take a look here too. There are many Breed and Canine Clubs throughout the UK, and most hold Ringcraft classes and shows. Also, your puppy or dog's breeder will probably be able to give you some initial guidance.
You will have to get to grips with the trimming requirements – the grooming standard is becoming better and better nowadays, and for a lot of newcomers to our breed, this can be the most challenging part of showing a Kerry Blue.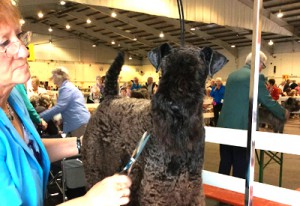 We have provided a list of recommended groomers in the UK who can groom your dog to the correct shape for your Kerry, however long-term you will almost certainly want to trim your own dog. Most show exhibitors will be happy to help and advise and with time, patience and practice you will be trimming your own Kerry for the showring.
We post dates for our KBTA Club shows, other Kerry Club shows, Championship Shows and sometimes Open Shows where vulnerable breeds are listed. You will need to regularly check on sites such as Fosse Data, Dogbiz and Higham Press for forthcoming General Championship Show information. We offer friendly advice and support to please don't hesitate to Contact Us.
If you're new to showing, please observe the following codes of behaviour at all shows:
Children are welcome, but please don't let them run about making lots of noise which distracts the dogs, judges and is intrusive to exhibitors. This also goes against the strict health and safety rules at dog shows.
Always wait until showing is finished before you approach exhibitors for advice. Kerries have the final touches put on just before entering the showring, and exhibitors are usually too busy with this to have the time for chatting. Most however, are more than happy to talk when showing is done.
Please don't touch the dogs being shown unless the owner/exhibitor gives you permission.
Dogs not entered for the show are not normally allowed within the venue (always check as some Shows now allow pre-booked dogs not for showing) so if you have other dogs with you, please make sure you have made proper safety and care provision for them, especially if they are to be in a vehicle best to leave them safely at home if possible.
Bring some spare pound coins there's always some interesting store holders and sometimes some jolly nice prizes in raffles!
Above all, enjoy watching the showing and making new like-minded friends.
Please take a look at the Showing Your Dog section on our website and remember we're only an email away for further help and support or arrange to meet us at a forthcoming show date.