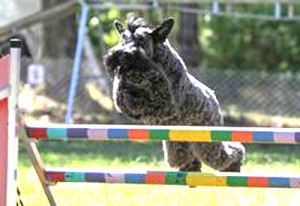 The sport of Agility was invented in England where an equestrian show jumping enthusiast was asked to develop an entertaining event for the Cruft's Dog Show. The event proved to be so much fun for the participants and the spectators that a new dog sport was born.
Handlers direct their dogs off leash through an obstacle course that always includes jumps and may also include tunnels, weave poles, a dog walk, teeter totter and A-frame. Handlers are not allowed to touch their dogs or the equipment when competing. Dogs rely on their handlers body language, voice and hand signals to negotiate the obstacles in the proper sequence.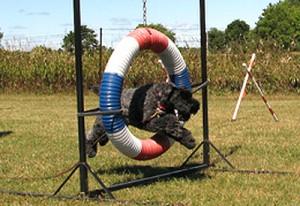 During training positive methods utilizing toys and food treats are used to teach the dogs first the obstacles themselves and then to run several obstacles in a sequence. Handlers and dogs learn various manoeuvres that allow for changes of side and direction. Dog's and handlers quickly discover how much fun agility can be. As the dogs learn to focus on their handlers in spite of distractions the bond between them is strengthened. Even if you never compete both you and your dog will benefit from agility training.
The best introduction to the sport is to attend an agility trial. Take your chairs, a picnic lunch and an umbrella for shade if you have one. Most competitors will be glad to talk to you when they have free time. You will soon see that a wide variety of dogs and people can enjoy this sport.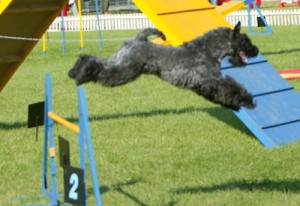 The UK Kennel Club has some excellent information and club search. Please contact us if you need any assistance.
If you have a Kerry and have or are competing in Agility we'd love to hear from you.
In the coming weeks we'll be adding some advanced agility Kerries but in the meantime please enjoy this one of Darcy in 2015 as very much a beginner on her 3rd attempt! Thank you Joanna for being brave enough to let us use this!