Having a proper Scottish supper of haggis 'n' neeps 'n' tatties for Burns Night or just looking for an excuse to have haggis?!! Well, while you obviously want to keep your furry friend off the whisky, we've been trying out this lovely mouth-watering haggis recipe for dogs to ensure that your wee one can enjoy some hearty fare. Everything in moderation mind – this feast is classed as a high level reward so a little piece goes a long way!
Ingredients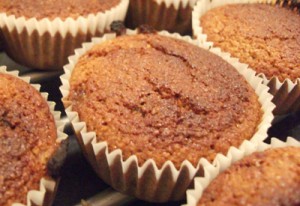 1 carrot (grated)
2 tbsp oil (for greasing)
1 cup roasted sweet potato (chunks)
half a cup organic liver (chopped)
3/4 cup red lentils
2 cups chicken stock (low salt)
1 cup kidney beans
1 tsp fresh rosemary (chopped)
pinch of pepper
3 cups porridge oats
The sweet potato, lentils and beans are optional you can up the oats and an egg. We've used the above and and made without the potato and lentils and the woofer woofed 10 out of 10!
Method
In a large saucepan, sauté the grated carrot until softened. Add in the roasted sweet potato, lentils, liver, oats and stock and bring to a boil on the stove. Simmer for 10 minutes and then add the kidney beans and rosemary (add more water if needed). Oil 8 muffin or fairy cake tins or 1 loaf tin and fill with the mixture and then cook at 375F for around 30 minutes. Place foil over the bake for the first 15 minutes then uncover. Do stick a skewer in and ensure it comes out clean ie the loaf or muffins are cooked properly. Ensure your beany-meat roast with a Scottish Burns night theme is woofsome before your furry friend gets stuck in!
(Recipe inspired by Henrietta Morrison, founder of Lily's Kitchen)
ATTENTION – if you have a tickety-boo photo of your Kerry with a Scottish Beret please send it in