This is a lovely treat recipe that is very healthy for your dog and virtually fat free!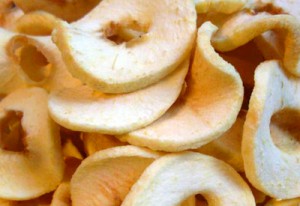 Most dogs loves apples in all varieties and this is a good low-fat treat you can feed yours without worrying about putting weight! And they're naturally sweet, so these treats make a nice change from the usual savoury ones.
Ingredients
Apples – you can use any variety of apple but please do check that they are not bruised
Method
Preheat your oven to 160 degrees C (325 F). Peel and core the apples and slice into rings. Place the rings on a baking sheet and put into the oven to bake for about 6 hours. They should be dry and 'leathery' when they are done, rather than crispy (there's nothing wrong with them being crispy we just prefer then leathery). The more moisture you take out of them, the longer they will keep. They will keep for 2 – 4 weeks in an airtight container depending on how dry they are. You can cook the apples faster on a higher heat but you must keep an eye on them as they tend to burn quickly which is not what you want at all.