Some of our dogs go twisting and spinning around for fish and here is a good way of getting your furry friend to eat a healthy snack that they will relish. Remember these are treats and rewards so two or three a day is ample. Children like making this recipe too as its an easy mix and fun cutting out the shapes let alone seeing the results of your fine work!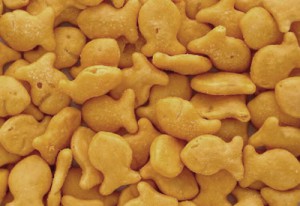 Ingredients:
1 x 200g tin of salmon or tuna in oil
1 egg, beaten
100g (4oz) flour
Method 
Preheat your oven to 180 degrees C (350C/Gas Mark 4) and lightly grease a baking sheet. Put the fish and oil into a mixing bowl and flake it through with a fork. Add the beaten egg stirring well to
combine. Add the flour next and mix together to form a lumpy dough. You can either roll out the dough and use a fish cutter or even a heart cutter, cut up into small squares or roll into little dough balls – lots of option to play around with. Place the shapes onto the baking sheet and bake in the oven for approximately 20 minutes – it will depend on the size of your biscuits – so keep an eye until golden brown and cooked through. Remove from oven, allow to cool and you can store them in a sealed container in the fridge for approximately 2 weeks.